Developing your leadership potential begins with keen awareness
Capacity coaching is a powerful process which allows participants to transform their leadership from "management by objective," to "leadership through coaching." Our coaches direct participants to reveal ineffective patterns of thinking and to shift focus toward fully utilizing individual strengths. You will spot opportunities for maximum impact and learn how to transfer your ideas into action.
Coaching is the place where, when participants fully dive in, they can gain startling self-discoveries and new ways of thinking – about themselves, others, and the environment(s) that surround them.
Our coaching process is structured – participants know what to expect from us, what we expect from them and what we both expect from the sponsoring executive.
As a rule, we concentrate on strengths but we are no stranger to revealing a blind spot and insisting the participant spend time on understanding their opportunities in order to minimize the negative impact.
Our tools assist participants in transferring their new thinking into action. These tools are repeatedly used throughout coaching so you can use the tools on your own.
With our holistic approach to coaching, we help you to walk through the tools of our development process to understand both internal and external perceptions of your leadership. Discovering what we know to be true about ourselves and what others perceive to be true about us leads to more realistic goals for you and your organization.
We work with each client to understand their goals and aspirations. With a clear picture of where you'd like to go, we can help you set the path that will take you there.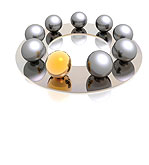 Contact us to learn more about how coaching can have a powerful impact on your leadership.
"Coaching is necessary for anyone who wants to achieve higher levels of productivity." – Terri Kabachnick